The COVID-19 global pandemic has created significant challenges across the nation and will have a lasting impact on American life into the future.  As states get their economies back on track, we expect some areas of the U.S. to outperform others, as the effects of the virus will likely accelerate several trends already in place.
Bow River Capital has a long history of investing in the geographic area highlighted below, which we refer to as the "Rodeo Region."  As the country begins adjusting to life in a post-pandemic setting, we feel Bow River Capital's Rodeo Region® is well-positioned to benefit from the forthcoming changes to our country.
Prior to the pandemic, numerous factors including housing affordability, taxes, job availability, and quality of life were driving people to the Rodeo Region.  From 2008 to 2018, seven of the top ten population growth states in the U.S. were located within the Rodeo Region.1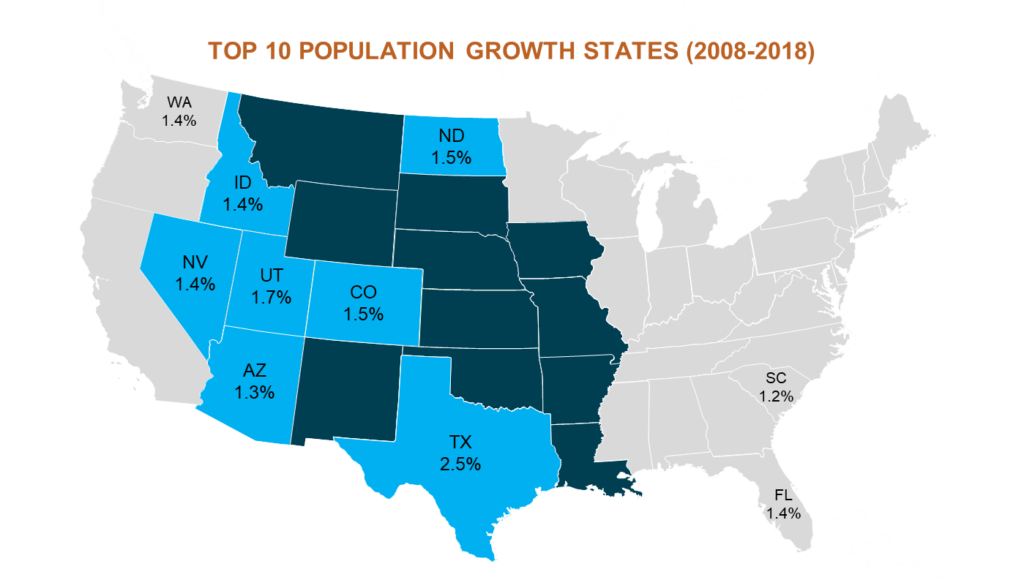 Due to the large number of office shutdowns caused by the coronavirus, there has been a sudden shift in Americans working from home.  We believe this, coupled with a rising wariness about close quarters and health, will accelerate the trend of continued migration away from offices in expensive coastal cities.  According to a new survey of home buyers and sellers from,2 25% of new remote workers expect to continue working from home after the pandemic.  Of those surveyed, more than 50% of people in New York, Seattle, San Francisco, and Boston said they would move out those cities if they could work from home indefinitely, with the primary reason being they want to live somewhere more affordable.  Notable companies to declare indefinite work from home plans for at least a portion of their workforce include Twitter, Google, JP Morgan, Morgan Stanley, Nationwide, and Barclays.
Prior to the pandemic, Redfin was reporting an increase in net inflow of potential homebuyers in key Rodeo Region cities including Phoenix, Austin, Las Vegas, and Dallas.  The data show that people moving to these areas are coming from Los Angeles, San Francisco, New York, and other large coastal markets and the work from home adoption by more companies in these cities should reinforce this trend.3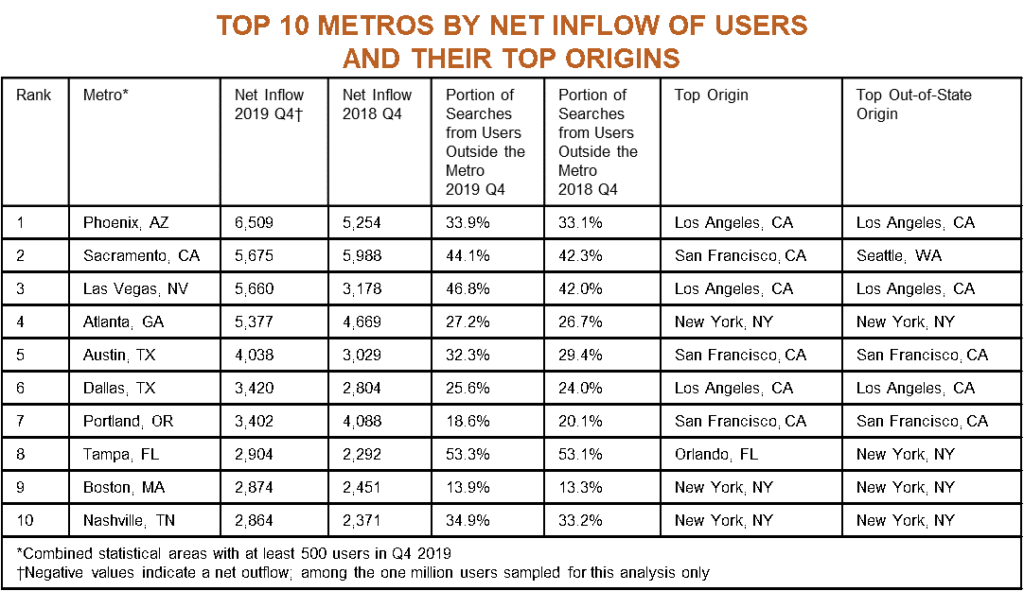 Another leading indicator of state recovery success can be seen by studying the state economies that have been most heavily impacted by the pandemic.  WalletHub recently ranked each state economy by those most effected by COVID-19, using data points related to unemployment, total state GDP, and available state resources.  The data show that eight of the ten least impacted state economies are located within the Rodeo Region.4
The data indicate that these Rodeo Region states are economically better positioned to deal with the effects of COVID-19 and will thereby benefit from a faster road to recovery.
As the economy continues improving and our daily lives start to normalize, we believe Bow River Capital is well-positioned to continue taking advantage of opportunities within the Rodeo Region.
For more information on Bow River Capital and the data included in this report, please feel free to contact us at email hidden; JavaScript is required or 303-861-8466.
_________________________________
1Source: https://www.pewtrusts.org/-/media/assets/2019/02/state-population-growth-2018.pdf
2Source: Ellis, T. (2020, May 18). Post-Pandemic Migration from Expensive Cities Likely, Survey Finds. Retrieved June, from https://www.redfin.com/blog/wfh-leaving-new-york-san-francisco
3Ellis, T. (2020, February 07). Redfin Migration Report: Migrants Out of Expensive West Coast Metros Flocked to Portland, Oregon in Q4. Retrieved June 15, 2020, from https://www.redfin.com/blog/q4-2019-housing-migration-report/
4McCann, A. (2020, June 08). State Economies Most Exposed to Coronavirus. Retrieved June 15, 2020, from https://wallethub.com/edu/state-economies-most-exposed-to-coronavirus/72631/
{

All News Posts

}