The COVID-19 global pandemic has created significant challenges across the real estate landscape.  These challenges have surfaced due to a massive shift in the number of people working from home across the country, coupled with retail shutdowns and global supply chain disruptions.
While raising our Real Estate Fund II in 2018, Bow River Capital's team highlighted the rise of ecommerce as a key thesis.  As a result, industrial properties make up our single largest weighting in the Fund.
Industrial real estate has significantly outperformed the broader real estate market through the crisis, and in this bulletin, we outline several reasons why Bow River Capital sees Rodeo Region industrial development projects as attractive in today's environment.
Historical Outperformance
Historically, industrial development has seen strong performance relative to other real estate asset classes.  As illustrated in the chart below,1 industrial properties have outperformed all other asset classes over the past one, three, and five-year periods; only senior housing has generated higher returns over the past ten years.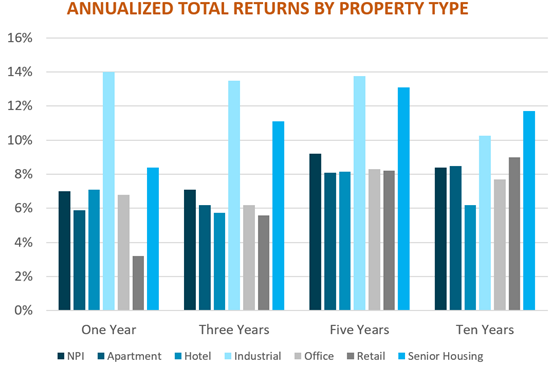 Throughout the COVID-19 pandemic, industrial properties have only continued to outperform.  According to a recent report by Morgan Stanley, REIT total returns stand at -16% year to date.2  As illustrated in the chart below, only three subsectors are positive on the year, the highest performing of which is the industrial sector.3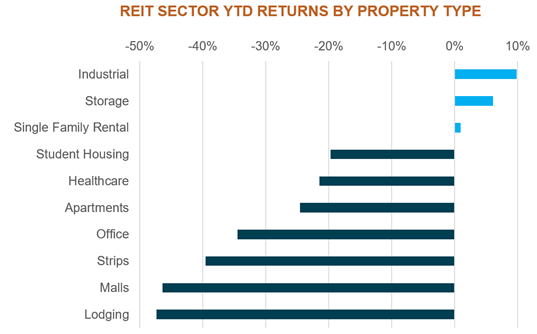 Future Demand Driven by Changes in Consumer Behavior
The question is, how will the impact from COVID-19 effect returns over the next 10 years?
The distress in commercial real estate is linked to several key factors which we believe will be demand drivers for the industrial asset class.
COVID has created an increased desire for people to shop safely from home, which has led to a 76.2% year over year increase in ecommerce.4  As more Americans shift to online retail, companies like Amazon must increase warehouse space to keep up with demand.  According to a recent Wall Street Journal article, the key measure of demand known as net absorption (the net change in occupied space) for big warehouses soared 51% in the first half of 2020 due to the pandemic.5  The article notes that Amazon leased 26.9 million square feet of industrial property in the first half of 2020, and they expect to occupy nearly 98 million total square feet in the U.S. in 2020 alone.
At the same time, COVID-19 has exposed a weakness in the global supply chain, creating delays in how quickly we are able to import goods.  As a result, manufacturers' demand for onshore supply chain capacity has increased.
These demand drivers strengthen the outlook for the industrial asset class into the future.  However, it is critical for investors to have exposure in the right geographic areas.
Strength of Asset Class in Rodeo Region
Bow River Capital has a long history of investing in the geographic area encompassing the North American Mountain West, which we refer to as Bow River Capital's Rodeo Region® ("Rodeo Region").  Prior to the pandemic, numerous factors including housing affordability, taxes, job availability, and quality of life were driving people to the Rodeo Region.  As illustrated below, data from the U.S. Census Bureau shows significant population growth in key Rodeo Region cities including Boise, San Antonio, Denver, Salt Lake City, Colorado Springs, and Reno over the last ten years.6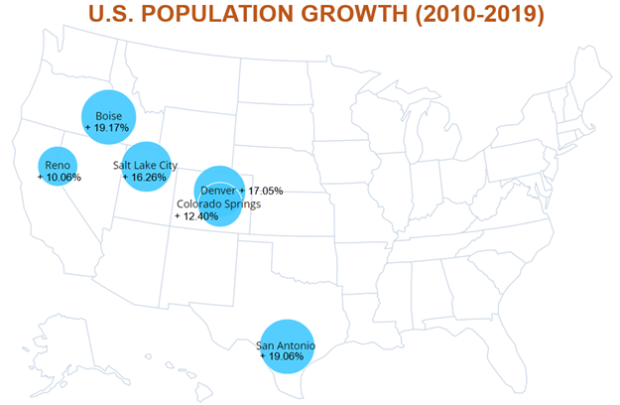 U.S. News recently released the 150 best places to live in the U.S. in 2020-21, with the top five cities all located within the Rodeo Region, and four of the top five located in Colorado.7  A recent report from Redfin also shows an increase in net inflow of potential homebuyers in Rodeo Region cities like Phoenix, Austin, Las Vegas, and Dallas.8  The data show that people moving to these areas are coming from Los Angeles, San Francisco, New York, and other large coastal markets.  The onset of the coronavirus has accelerated the trend of individuals leaving coastal markets and moving into the Rodeo Region.
As population inflows into the Rodeo Region rise, and ecommerce trends continue to increase, the demand for last mile distribution will need to keep pace.  The last mile represents the final segment of the route products take from origin to customer destination.  The pressure to deliver goods to consumers more quickly (known as the "Amazon Effect") creates a need for new warehouse distribution centers that are located in proximity to key metro areas.  This culture of immediacy will likely cause companies that have 1,000,000 square feet in one market to have 100,000 square feet in ten different markets.
In addition to distribution warehouses, there is also a need for warehouses to handle returned goods, creating an even greater demand for this asset class.  According to a recent article from Capstone Logistics, ecommerce returns are at an all-time high.  The increase in online shopping, combined with more consumer-friendly return policies, is making reverse logistics a challenge for many retailers.  The article goes on to note that up to 30% of items purchased online will be returned, and reverse logistics can account for an additional 15-20% of warehouse square footage than what is required for normal outbound shipments.9
As more individuals move into the Rodeo Region, industrial development projects should remain attractive investment opportunities for local experts like Bow River Capital.
Investment Opportunities Driven by Expertise and Relationships
To identify the best investment opportunities in this area, it is critical to have expertise investing in the both the asset class and the region.  Particularly when it comes to industrial development sites, it tends to be harder to find opportunities that are located right off major highways and near key metro areas.  Bow River Capital's longstanding relationships in the Rodeo Region create an advantage for finding off market deals.  At the same time, these relationships provide the ability to work with local municipalities to assist with solving potential issues and de-risking projects.
These key advantages have proven crucial to the success of our industrial real estate investments, allowing Bow River Capital to get into the right deals, and then quickly develop to cash flow in order to attract institutional income seeking buyers.  For a sample case study on our 25 North development, which generated a 3.0x ROIC in just over two years, please contact us.
Attractive Exit Environment Driven by Institutional Buyers
There has been a shift in who is buying industrial real estate in the Rodeo Region in recent years.  Due to historically low interest rates, large institutional investors have struggled to maintain yields in their traditional investment portfolios, and many have increased their allocations to private real estate to seek increased yields.  This shift has led to a rise in competition in the market.  As a result, there has been a decrease in cap rates.  As illustrated in the chart below, industrial property types have seen the most significant compression in cap rates.10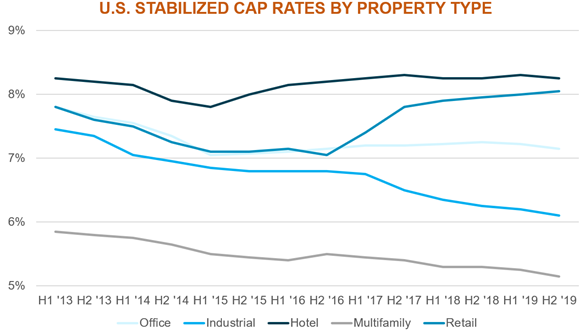 Continued cap rate compression for industrial real estate enables Bow River Capital's development projects to be well positioned to take advantage of selling assets to large institutional buyers at attractive prices.  Bow River Capital has identified several markets where we will focus on industrial developments moving forward, including Boise, ID, Colorado Springs, CO, and Fort Collins, CO.  As population growth trends continue to rise, these smaller markets are becoming more institutional upon exit.
Given the dynamics outlined above, we believe industrial development projects concentrated in cities with favorable characteristics, like the Rodeo Region, create opportunities for Bow River Capital to invest in strategically positioned, long-term projects into the future.
For more information on Bow River Capital's Real Estate Fund II, please contact us at email hidden; JavaScript is required or 303-861-8466.
__________________________________
1Chart created by Bow River Capital. Source: NCREIF NPI Index and NPI-Plus Index. Values for period ending 9/30/19. Figures cited from "Senior Housing Annual Total Returns Equal 7.80% in Q3 2019" by Beth Mace. The National Investment Center for Seniors Housing & Care (NIC).
2Source: Morgan Stanley. The State of the CRE Cycle: 7th Edition – Darkest Before the Dawn. October 5, 2020. Values reflected from September 16, 2019 to September 18, 2020.
3Chart created by Bow River Capital. Source: Thomson Reuters, SNL Financial, Morgan Stanley Research. Values reflected from September 16, 2019 to September 18, 2020.
4Source:https://www.forbes.com/sites/stevebanker/2020/07/24/what-will-last-mile-delivery-look-like-post-coronavirus/?sh=35f4048d3b22
5Source: https://www.wsj.com/articles/demand-for-big-box-warehouses-soars-under-e-commerce-surge-report-says-11601546402
6Chart created by Bow River Capital. Source: United States Census Bureau, CSA Population Growth (since 2010).
7Source: https://realestate.usnews.com/places/rankings/best-places-to-live
8Ellis, T. (2020, February 07). Redfin Migration Report: Migrants Out of Expensive West Coast Metros Flocked to Portland, Oregon in Q4. Retrieved June 15, 2020, from https://www.redfin.com/blog/q4-2019-housing-migration-report/
9Source: https://www.capstonelogistics.com/blog/reverse-logistics-by-the-numbers/#loaddelivered
10Chart created by Bow River Capital. Source: CBRE North America Cap Rate Survey | Second Half 2019 (U.S. Industrial).
{

All News Posts

}