While the COVID-19 global pandemic has created unforeseen challenges for investors across the globe, private equity firms may be well-positioned to take advantage of the opportunities that lie within a market downturn.
According to a recent Harvard Business School study,1 private equity (PE) backed companies were found to significantly outperform non-PE backed companies during recessionary periods. These metrics are driven by several key factors, including the long-term nature of PE investments and the significant involvement PE firms have in managing portfolio company operations. Public companies experience high volatility during downturns, largely due to "panic selling" and a lack of available capital to alleviate financial constraints. In contrast, PE firms may have capital to invest in their portfolio companies such that they can weather the storm and wait until markets normalize before making an exit. According to the study, PE-backed companies invested 6% more than non-PE backed companies from 2007-2009, gained 8% market share, and were 30% more likely to be acquired after the Global Financial Crisis. This distinct advantage has led to stronger relative out-performance during market downturns, as shown below.2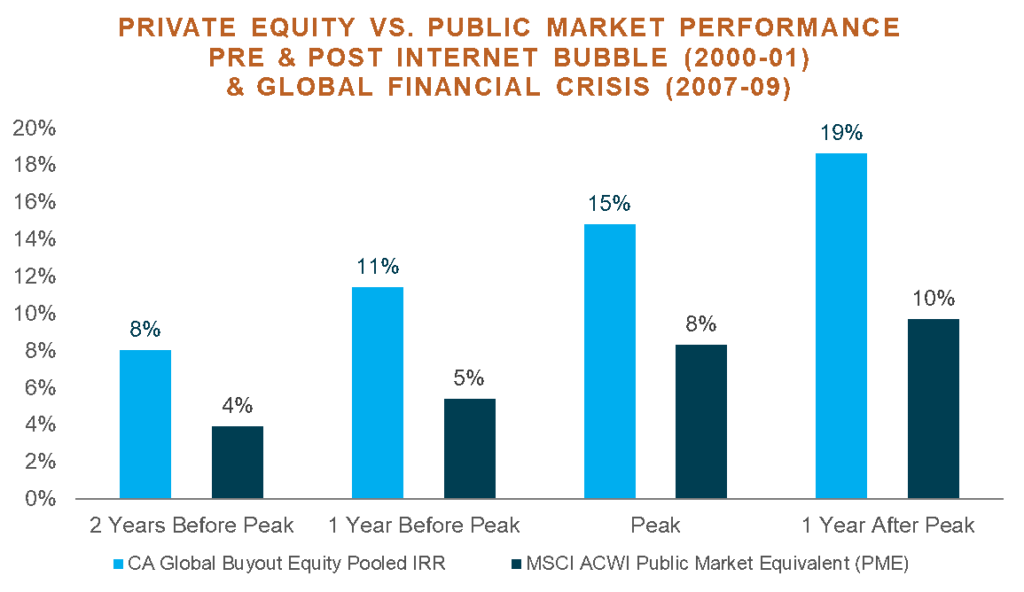 Periods of market distress can also create significant opportunities in the private equity secondaries market. During a market downturn, Limited Partners (LPs) who have long-term capital commitments to PE investments may find themselves struggling to come up with the funds needed to meet future capital calls, or in need of liquidity for other parts of their portfolio. Even LPs that don't have an immediate liquidity need may find that their PE allocation has drifted above their policy target range due to losses in their listed equity or credit investments. In response to this distress, many LPs may decide to sell their investment stakes at a discount to fair value. PE firms that focus on the secondary market and have capital to deploy can then purchase these discounted interests. These PE firms have the advantage of evaluating the fund's holdings before making an investment and may benefit from early distributions in more mature fund portfolios. As illustrated in the chart below,3 investments in PE secondaries have historically outperformed during market dislocations, particularly when pricing drops below 90% of net asset value.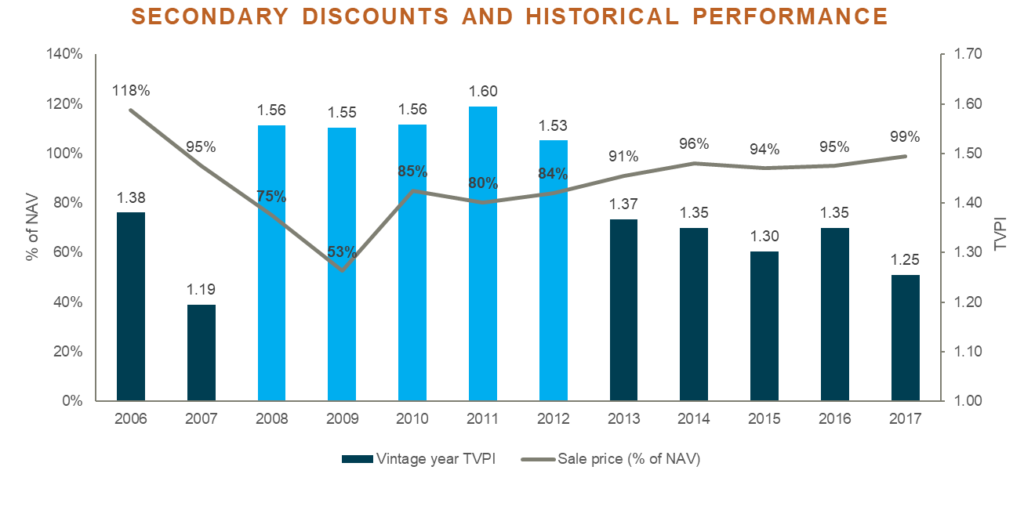 If you are interested in discussing possible private equity options that may be a good fit for your portfolio, please contact us at email hidden; JavaScript is required or 303-861-8466.
_____________________________________________
1Source: Bernstein, Shai, Lerner, Josh, and Mezzanotti, Filippo (2017). "Private Equity and Financial Fragility during the Crisis." (Working Paper 18-005). Harvard Business School Publication.
2Chart created by Bow River Capital. Data sourced from UBS Family Wealth Office Report – May 2019, Cambridge Associates, based on data compiled from 2,007 global private equity funds (buyout, growth equity) including fully liquidated partnerships formed between 1994 and 2017. Internal rates of return are net of fees, expenses and carried interest. PME metrics benchmark the performance of private equity investments against a public market index while accounting for the timings of pooled fund cash flows. Above graph references pre/post 2000 and 2007 equity peaks.
3Chart created by Bow River Capital. Data sourced from Greenhill – Global Secondary Market Trends & Outlook (Jan. 2020), T.D. Nadauld, B.A. Sensoy and K. Vorkink et al. / Journal of Financial Economics 132 (2019), and Pitchbook as of Q2 2019.
{

All News Posts

}