September 2016 –
We at Bow River Capital study real estate cycles and the best property types to buy. Various real estate product types respond differently in expansionary and recessionary cycles. We analyzed the performance of five major real estate types (hotel, multifamily, retail, industrial, and office) in the US between 1988 and 2015 to determine the returns, risk (standard deviation), and risk-adjusted performance (Sharpe ratio) of each. The analysis focused on how each property type responds to both expansion and recessionary periods, trying to understand risk/reward trade-off.
Summarizing, we found that:
Industrial properties were the least susceptible to boom-and-bust economic cycles
Office, hotels, and multifamily all showed significant volatility, including multiple periods of both outperformance and negative absolute and risk-adjusted performance
Retail performed the best across nearly every relevant metric
Bow River's real estate investments will be colored by these conclusions. We are currently emphasizing industrial and retail opportunities. While we believe office and multifamily has overall entered an overbuilt stage, we will continue to evaluate well-positioned and opportunistic investments. Bow River will continue to avoid hospitality investments.
Methodology
Our work is based on data from the NCRIEF index* which tracks US institutional property portfolio performance. We analyzed the quarter-average returns of 7,732 properties followed by the index from 1988 – 2015. The Sharpe ratio is based on US 10-year treasury rates.
We analyzed four time periods when commercial real estate returns shifted from an upward trajectory to a downward trajectory that led to negative year-over-year returns.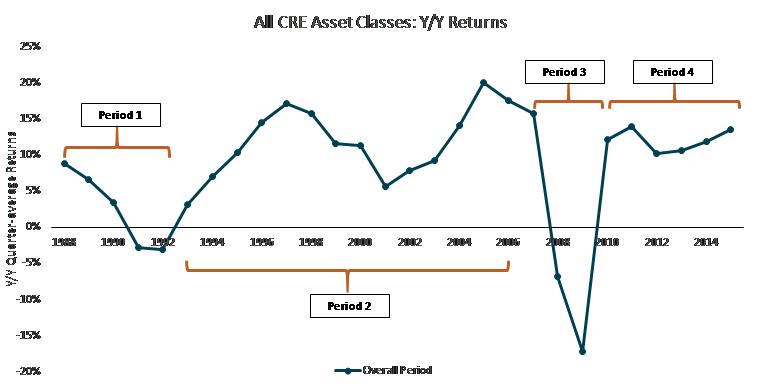 *The NCREIF Property Index is a quarterly time series composite total rate of return measure of investment performance of a very large pool of individual commercial real estate properties acquired in the private market for investment purposes only. All properties in the NPI have been acquired, at least in part, on behalf of tax-exempt institutional investors – the great majority being pension funds.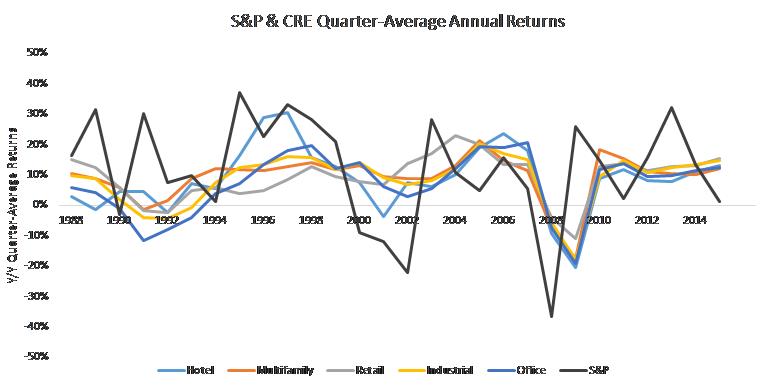 Average Annual Returns
The data below represents year-over-year average annual returns of each property type.
Risk: Standard Deviation of Returns
This category measures risk, as defined by the standard deviation of returns. Once again, retail and industrial were the strongest performers. Retail most consistently had the lowest level of relative risk. Industrial was once again the only class to produce neither the highest nor lowest risk level. Other classes were variable, with office never the lowest level in any time period.
Risk-Adjusted Returns: The Sharpe Ratio
To analyze the risk-adjusted returns of each property class, we calculated a Sharpe ratio to measure investment risk (volatility) per unit of return.
Both retail and industrial showed strong risk-adjusted performance, with retail leading the other classes by a wide margin. Once again, on a risk adjusted basis, industrial was the most consistent – never leading nor lagging the other groups. Retail was the strongest overall risk-adjusted performer. The other classes vary by the time period analyzed.
Statements made herein are opinions of Bow River as of the date noted and should not be construed as investment advice or recommendations.  Certain information contained herein concerning economic trends and performance is based on or derived from information provided by independent third-party sources.  Bow River believes that the sources from which such information has been obtained are reliable; however, it cannot guarantee the accuracy of such information and has not independently verified the accuracy or completeness of such information or the assumptions on which such information is based.  This document does not constitute an offer to sell or the solicitation of an offer to buy an interest in any securities or private fund managed by Bow River.
{

All News Posts

}